Neopets Haunted House is a fun game where you choose an action for your Neopet and see if you can make it through the house. Here are the Neopets Haunted House answers:

Continue down road.
Stay in the car.
Run from the car in terror.
Continue along the path, avoiding the old house.
Keep Asking Questions.
Head up to the house to look for the woman's baby.
Investigate the noise in the bushes.
Descend the steps into the dark cellar.
Try to break down the boards.
Read the book on history.
Run back up the stairs.
Continue along the corridor.
Continue.
Shine your torch in his face.
Run down the right corridor.
There you go! You win!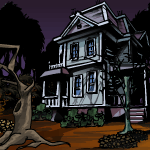 Posted byBlog Author at 6:13 PM  
Labels: Codes for Neopets, Neopets Cheats, Neopets Haunted House
2 comments:
dlavallee said... February 7, 2009 at 1:40 PM

 

FIRST COMMENT!!!!

Thanks so much-I would have never have figured that out!!

Finally, I can finish this thing xD