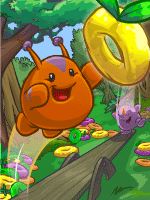 Neopets Featured game for today is Hasee Bounce.


Hasee Bounce:
Hasee bounce high to get the Doughnutfruit! Be careful to stay clear of Dung and things that could hurt your Hasee. To give your more time, spell out
HASEE
.
A mouse is required to play Hasee Bounce. Move the mouse left and right to position the Hasee in the correct position and then press the left mouse button to make one Hasee jump down and the other Hasee jump up.
Posted byBlog Author at 4:31 AM  
Labels: Codes for Neopets, Hasee Bounce, Neopets Cheats, Neopets Games
0 comments: