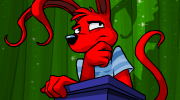 Here is today's Neopets Daily Puzzle:
This former Goalkeeper from the Darigan Citadel is described as having the best set of hands in the business.
Reshar Collifay
Valtonous Rea
Mungo Lifler
Layton Vickles
Here at TNC, we believe the answer is Mungo Lifler. Let's choose than answer right now...Yep! The correct answer is Mungo Lifler, and the prize for getting the Neopets Daily Puzzle correct is 350 NP! Yes!
Posted byBlog Author at 11:24 AM  
Labels: Codes for Neopets, Neopets Cheats, Neopets Daily Puzzle Answers
0 comments: