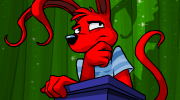 Here is today's Neopets Daily Puzzle:
Members of this Petpet species are surprisingly good at
Gormball
.

Tencals
Uniocto
Cuttlebot
Quadrapus
We here at TNC believe the answer is Quadrapus, so let's put them in as the answer and submit...Yep! The correct answer is Quadrapus and the prize for answering the Neopets Daily Puzzle correctly is 400 NP! Sweet!
Posted byBlog Author at 12:59 PM  
Labels: Codes for Neopets, Neopets Cheats, Neopets Daily Puzzle Answers
0 comments: