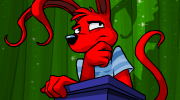 Here is today's Neopets Daily Puzzle:
To whom must the Underwater Chef deliver food every five minutes?
King Kelpbeard
Captain Scarblade
Mumbo Pango
The Drenched
Here at Neopets cheats, we believe the answer is Mumbo Pango. Let's try that answer out now....Yep! The correct answer is Mumbo Pango, and the reward for getting the daily puzzle correct for today is 320 NP!
Posted byBlog Author at 4:03 AM  
Labels: Codes for Neopets, Neopets Cheats, Neopets Daily Puzzle Answers
1 comments:
http://drobicho.com/blog/neopets_cheatz/

More Neopets links!