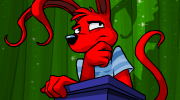 Here is the Neopets Daily Puzzle for 12/1/07:

Which of these famous Neopians does NOT have a Quiguki figure made in their likeness?

Possible Answers:

Illusen

Hannah

Jeran

Queen Fyora
Here at Neopets Cheats, we believe the answer to the Neopets Daily Puzzle is Illusen. Let's try out our answer now...

Yep! The Illusen is the correct answer to today's Neopets Daily Puzzle. The prize for answering todays Daily Puzzle is 400 NP!

Posted byBlog Author at 3:54 AM  
Labels: Codes for Neopets, Neopets Cheats, Neopets Daily Puzzle Answers, Neopets Illusen, Neopians
0 comments: