Neopets Cheats brings you the Neopets Daily Puzzle: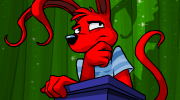 What did Chuffer Bob's mother feed him for a month to help his tail grow?


Possible Answers:

Beetroot

Radish

Parsnip

Fava Beans
Log in to Neopets to answer a question. Or, leave a comment with your guess to help out other Neopians who are hoping to find some Neopets cheats here.
Personally, Neopets Cheats would select Fava Beans, seeing as it was an answer to a previous Neopets Daily Puzzle a while back. What do you think the answer is?
Yes, the answer is Fava Beans. The prize for answering the question correctly is 100 NP and Fava Beans. Pretty good deal.
Posted byBlog Author at 1:14 PM  
Labels: Neopets Cheats, Neopets Chuffer, Neopets Daily Puzzle Answers
0 comments: